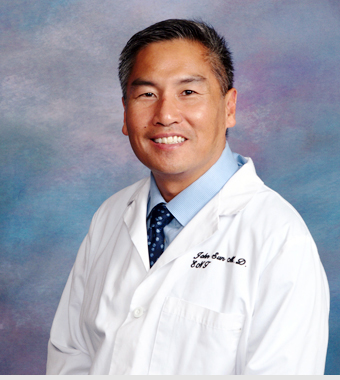 Our Physicians
John Sun, MD
Dr. John Sun completed his undergraduate degree at Dartmouth College with Honors in Biochemistry. He then obtained his medical degree (MD) from Washington University in St. Louis, MO. During medical school, he also received a masters degree (MA) in hearing research. He then completed his residency in the Department of Otolaryngology at Washington University in St. Louis, MO. Dr. John Sun's field of interest during his residency training was in hearing and balance research.

Prior to starting his practice in Orange County, Dr. John Sun had a special interest in inner ear research. He started his research in studying noise induced inner hair cell damage. He then progressed to studying microbiology of the vestibular (balancing) system in Europe. Dr. John Sun received national research funding in the United States as well as in Europe. Although he started in academia, he realized his real desire is to serve the community where his family resides.

Dr. John Sun is board certified in Otolaryngology-Head and Neck Surgery. He is a member of numerous professional organizations, including the American Medical Association, the California Medical Association, and American Academy of Otolaryngology-Head and Neck Surgery. Dr. John Sun has been elected by his peers for inclusion in Best Doctors in America for 2017-2018. The prestigious recognition marks the fourth time that he has earned this honor.

Dr. John Sun was born in Taipei, Taiwan and spent his childhood years in Van Nuys, CA. His primary language is English however he is also fluent in Mandarin. Dr. John Sun is married and has a daughter and two sons. In his free time he enjoys competing in triathlons and coaching his children in sports.